Facebook | Twitter | Instagram | Pinterest | Bloglovin' | Google+

Welcome to my blog!

My name is Cosette and I'm a Maltese beauty and fashion blogger in my 30's.

In September 2010, I started this blog, Cosette's Beauty Pantry (back then it was called Skin Care Suggestions). I post skin care tips and advice. I also write about my experience with skin care products, treatments and home remedies.

I've been suffering from acne since I was 12 years old. Fortunately, my skin is much better now. Throughout the years, I've learned a lot about skin care and I want to share my experience. I try to use natural skin-loving ingredient as much as possible. All the DIY beauty recipes I blog about, are recipes I have tried myself.

I also blog about hair, make-up and fashion. Nowadays Cosette's Beauty Pantry has evolved into a beauty blog with a little taste of fashion!

I would love to have you help me spread the word about Cosette's Beauty Pantry. To help you do that, I have created a button that you can add to your blog/site.

Share the love, grab the blog button!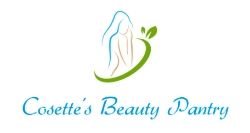 Insert the above code in your blog/site to link back to Cosette's Beauty Pantry.
You can also share the love through the
various
social media platforms
you may use. You will find social media buttons which makes it super easy to share your favourite posts with your friends.
I do hope you will give my a hand in letting everyone know about this blog.